Surf
We give you 7 reasons to start surfing:
It makes you forget the stress, improves the cardiovascular system, strengthens the muscles, makes you lose weight, improves joint balance and mobility, builds self-esteem, makes you rest better.
The lessons are aimed at adults and children of all ages.
Packages and timetables to be agreed with the instructor.
Info and reservations: Michelangelo 392 4533628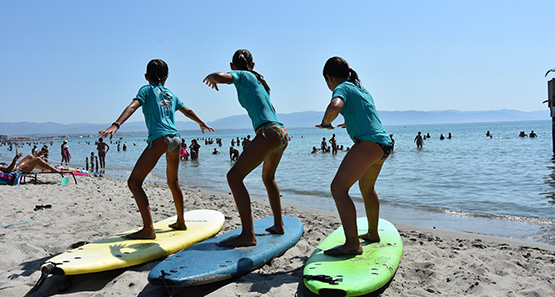 Acquagym
The acquagym includes bodyweight exercises designed to help the development of the muscles and the elasticity of the joints. The reduction of gravity in sea water, even if minimal, ensures that there are no traumas or violent impacts on the joints during its development, making it useful also for therapeutic and rehabilitative purposes.
Cardio training and muscle strengthening exercises make acquagym a complete discipline and suitable for both young people and those more advanced with age, athletes undergoing rehabilitation and women in an interesting state.
Summer lessons: Tuesday and Thursday from 11.00 to 12.00; Friday from 17.30 to 18.30
Private lessons by appointment
Info and reservations: Marzia 333 2491105 // pischeddamarzia@gmail.com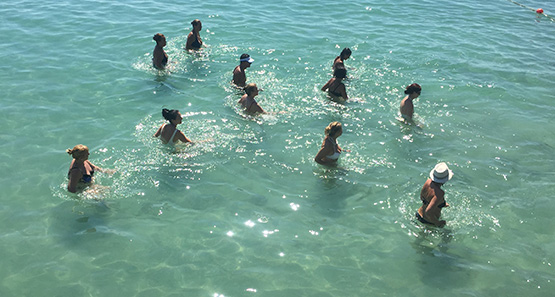 Beach tennis
Starting from October, the Beach Tribù and Il Lido for Fitness organize sporting events, tournaments, recreational activities and introductions to the discipline as well as activities in collaboration with schools.
For beach tennis lovers, we have 10 regular courts, 8 available to students and 2 available to the school.
Each member must present a medical certificate valid for the entire season as required by law.
The lessons offered to adults and / or children can be individual or collective with schedules customizable according to individual needs. The instructors are recognized by the Italian Tennis Federation.
Info and school reservations: Giuseppe 393 3358213 // giuseppemartinez64@gmail.com
Info and reservations for cabins and medical certificates:
Marzia 333 2491105 // pischeddamarzia@gmail.com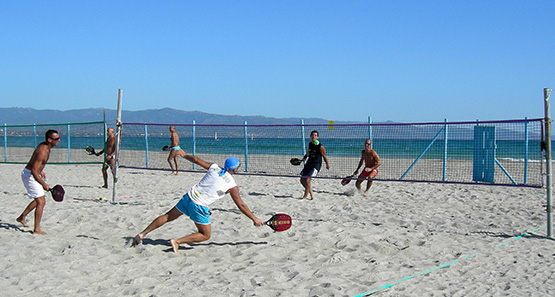 Beach Volley
Asd Beach Volley Cagliari is the first beach volley school in Sardinia. Organize tournaments, courses and events for all ages and all levels.
Info and reservations: 344/0388847 / beachvolleycagliari@gmail.com
Info and reservations for cabins and medical certificates: Marzia - 333/2491105