A'MARE RESTAURANT
A'Mare is located inside the establishment, which overlooks the sea in the suggestive Gulf of Cagliari with a stunning view of the Sella del Diavolo and Poetto beach.
An enchanting terrace that frames the internal room, a real penthouse projected onto the sea from which, during the day you can get lost in the shades, the scent and the sound of the sea while in the evening you can admire a unique and suggestive sunset.
An enchanting atmosphere that finds the right balance between the high quality ingredients, the professionalism and kindness of the staff and the unparalleled beauty of the location.
An unsurpassed welcome to satisfy the eyes and palate. The menu presents a perfect balance between traditions and innovation, satisfying the needs of the seafood, meat, vegetarian and vegan food lovers.
With a well-kept wine cellar representing the best Sardinian labels, A'Mare will help you discover the treasures of the Island.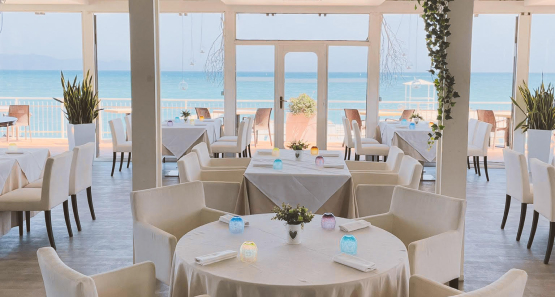 Open for dinner from Tuesday to Saturday from 20:00 to 23:00 and for events.
Four-legged friends are welcome
Reserved and exclusive parking
For info and reservations:
366 7617311
ufficiofb@lidocagliari.com